Meet Our Next Maker, Emily Kanz, Thrifting and Styling Expert!
April 01, 2021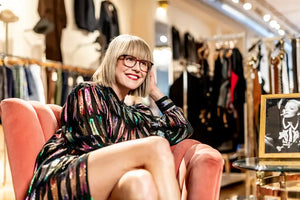 You know we love encouraging others to express themselves, which is why we were so excited to collaborate with the self-expression expert, Emily. She's perfected the art of thrifting for a wardrobe that makes you inspired to be your truest self, especially when other stores fail you. "I'm sure most people look at me and wonder what the hell I'm wearing or where the hell I would even acquire such things," she says, "Here's what I say ... don't be the person who says 'I could never pull that off.'"
Emily's Guide to Thrifting
A. The trick to thrifting is:
You have to have a strong desire to find the one thing you don't already own without knowing what you want. It's the hunt for something nobody else has. This is why eyebobs plays so well into my personal style. Their selection of frames is huge and they're all so uniquely different. They stand alone as art pieces themselves. Finding eyebobs is sort of like finding a vintage clothing store you never knew existed, and revealing a treasure trove of everything you love in one spot. It's how I feel about The Golden Pearl Vintage as well (the place where we did this photoshoot). Don't get me wrong, I love to hunt for vintage clothing (I'm a frequent flyer at Arcs, Goodwill, etc) ... but when someone can curate a collection of pieces so artfully constructed as eyebobs and Audra, the owner of The Golden Pearl Vintage, you know you're someplace truly magical. It's like meeting someone who speaks the same language as you in a foreign country. There's a bond there.
B. My second tip on thrifting "musts" is:
You gotta go often. You can't be sporadic. I'm typically bopping into a thrift store 5-6 days a week. This doesn't mean I buy something every time I go in. If thrifting is something you're falling in love with, you're probably going to learn early on, you need to actually "love" something, to bring it into your home. ONLY, and I repeat, ONLY leave the store with things you tell yourself that you honestly love. Forever pieces. It's going to take some time to develop the decision-making skills of knowing what you love. Not being selective moves you into the way-too much-stuff-everywhere zone. Nobody needs that. The selection process is key.
Emily's Styling Tips
1. Don't be the person who says "I could never pull that off." The first step is deciding not to limit yourself.

2. Stop caring what other people think about you, or how you dress. If you fall in love with a pair of eyebobs, for example, but are worried they may be "too much" ... take that chance. Life is too short.

3. Explore the possibilities in your existing wardrobe and experiment with pairings that might not make sense at first. Even if the outfit doesn't "work out," you may find inspiration by allowing yourself to try something new.

4. Play on proportions. I notoriously wear things that are four sizes too big for me. I love clothing with movement because clothing is an art form to me. Just because you wear something oversized, doesn't mean you're trying to hide anything or cover anything up. I don't have to wear clothes that are skintight to feel sexy. Work on playing with what you have. What can you cut up? Cut your pants shorter or cut the sleeves off a dress … especially if you've never really loved them to begin with. What's to lose?

5. When you're out shopping, style the outfit you already have on. If I find a coat that already looks fantastic with my current outfit, I usually go for it. Styling yourself when you're out shopping is your best bet to building the most-loved collection of clothes you'll ever have.

6. Seek out the items that give you a "guttural pang." My friends and I talk a lot about this feeling of being socked in the gut when you're so angry you didn't find it first or the exciting butterflies you get in your stomach when you win the lottery and find a hidden gem.

7. Wear things that make you feel like your truest self – your coolest, funniest, head-turning self.

8. When you see something that makes you feel something, buy it and wear it.
Shop All Frames