Meet The Maker: Kate Meier
August 23, 2021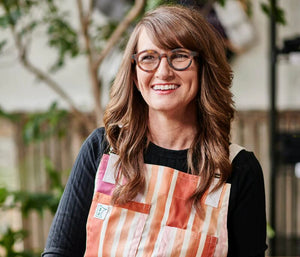 Kate is an innovator, a successful business owner, and a titan of industry. What drives her is not fame or fortune, but rather, a feeling that the people she serves are family, and that you always take care of family.

Kate watched her chef sons rip through expensive aprons that couldn't even withstand a little beet juice. Her journey began here, making unique, personable, truly durable aprons that, from the first time her sons wore them out in public, became a hot commodity.
Craftmade Aprons is a household name in the Twin Cities service industry, providing unique, affordable, high-quality aprons for chefs at your favorite restaurants. No matter how they grow, Kate still tries to make each apron as individualized as she can. Just like she did for her sons.

"We're a team in this process," Kate explains, "It's about dialing into the person you're working with, learning what their occupation is and thinking, what can we do to make your job even better?"
Her care for each and every person didn't stop there. Kate has seen the effects of the service industry first-hand.

Because of this, she founded Project Black and Blue, an initiative that donates 50% of all revenue from Project Black and Blue aprons to those dealing with the mental, physical and financial stresses of working in the service industry. Then the pandemic hit, and Kate saw line cooks, food delivery drivers and other industry workers putting themselves at risk every day.
"This is my family. These are people I care about. If you're putting yourself at risk, I'm going to try to help you be safe."

Craftmade started making masks almost immediately after quarantine began and was donating as many as possible to those who weren't getting the equipment they needed. They even donated masks to janitors at The Mayo Clinic. For Kate, it started with family, and it will end with family, just a much bigger one than before.