Meet The Makers: Spinning Wylde.
June 29, 2021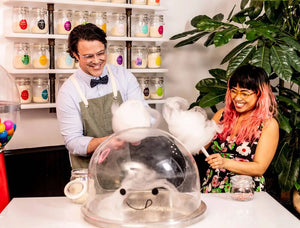 Grapefruit champagne. Green tea cheesecake. Rum and coke. Menu items from a local bistro? Nope – cotton candy flavors that you can get right now at Spinning Wylde. Husband-wife duo Tevy and Ben founded one of the most unique stores we've ever seen. With over 60 surprising, dye-free flavors and recognition of their son Wylde in the company name, these two are living their dream, up in the (cotton candy) clouds.
Tevy founded Spinning Wylde in 2017 and is the driving force behind the flavors and cotton candy creation. The "aha!" moment came when Tevy was making cotton candy for her niece's 2nd birthday party.

"It was Minnie Mouse-themed, so I decided to make cotton candy Minnie Mouse heads with big ears. I wanted to create a super cute aesthetic. I didn't like the fact that there was so much dye involved. I figured there had to be a better alternative."

After this, Tevy went looking for a better product and discovered there was none. It was at this moment, she saw an opportunity to make something sweet even sweeter.
Every single cotton candy flavor at Spinning Wylde is completely dye-free, which is unique to anything else you'll find. They use organic cane sugar and all-natural flavoring to bring their confections to life. We asked Tevy what the most popular flavors are, and she told us,

"Basic flavors like cherry lemonade and birthday cake are always fan-favorites, but our most unique flavors (like our spicy flavors) have become more popular since covid. I think this is because people are more willing to adventure. If you'd like something more bold, try our blackberry basil, serano strawberry, spicy mandarin, rosemary and fig or even garlic and mushroom. They're novelty flavors. They're a part of what makes us us."
While they share much of the business responsibilities, Ben, who was a roofing and siding contractor at the time, dropped everything to support the business as its chief builder.

"We had talked about starting a business for a long time. At one point, we considered opening a food truck showcasing her mom's amazing food."

Ben built their mobile shop and renovated an old bus, "The Chalk Bus," so people can stop by and experience special cotton candy while leaving a message for others, too!
Tevy loves berets, but she surprisingly doesn't enjoy the taste of cotton candy. What she does love about it is its beauty and almost magical qualities.

"It's about the product, but really, it's about the experience and the happiness cotton candy brings."

Tevy is passionate about mental health awareness, and through the pandemic, she was so happy to provide the community with something as easy as cotton candy to offer an escape.

Visit Spinning Wylde at www.spinningwylde.com or at their shop in St. Paul to experience a childhood favorite like never before.