Stine & Luis of Nordic Waffles: Our Next Makers
July 26, 2021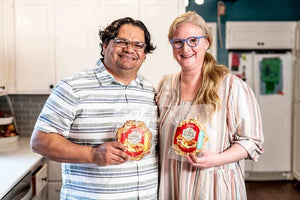 Meet the couple that's changed the waffle game: Stine Aasland, Owner of Nordic Waffles, and Luis Carrillo, Corporate Chef!
Stine started her business 18 years ago, at just 21 years old. She started selling delicious, fresh, heart-shaped waffles in gas stations across Norway. It's common for gas stations in Norway to sell fresh-made food, so this was a great place for her to get her name and waffles out there.

After six years, her business became Norway's largest waffle company, and could be found in 700 locations. While she was delighted over her success, Stine's dreams spanned across oceans.
She brought her business from northern Europe to Minnesota in 2015, prepared to turn her foreign business into "The Wafflelution."

Her waffles made their first big-time debut as one of the main vendors at the 2018 Super Bowl and then as a hot-ticket item at the Minnesota State Fair. It was here that she met her husband, chef Luis, who has since come on as Nordic Waffles' corporate chef. He has added his expertise to Nordic Waffles creations, particularly to the new, savory recipes.
Stine's story of bringing a piece of her culture across the world will cause inspiration to run through you! Today, you can find their fluffy and delectable waffles fresh and frozen across the midwest. You can use their location finder to discover fresh and frozen waffles near you.

Visit Nordic Waffles online to learn even more about The Wafflelution!