Which Is Better: Transitions Or Polarized Sunglasses?
August 09, 2021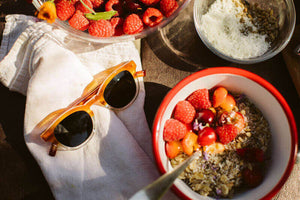 Nothing kills a summertime buzz like not being able to see outside. For our prescription-wearing friends, you have the choice between getting sunglasses and transition lenses. We're here to help you understand the difference! But before we delve into the options, let's take a look at the two culprits: light and glare.
Insight On Light
Who doesn't love the warm sun on a chilly winter day? Or how about soaking up some rays at the beach? But this light source in the sky can bring trouble to our eyes. Why? Light is crucial for vision, but glare can have the opposite effect. As in life, too much of a good thing can be bad. Like an occasional weekend of Netflix and pizza vs a month of it, too much glare is another story. Glare happens when excessive light enters and the eye is not able to control it. It is an extreme brightness that can cause temporary vision loss and discomfort. What is more, when our eyes encounter such extreme brightness we naturally squint. Regular squinting can lead to fine lines and wrinkles around the eyes. So what can be done to manage glare? And what are the best lenses for keeping the rays at bay?
Transitions
Transitions may seem to give you the best of both worlds. Clear lenses indoors and sunglasses outdoors. Like adventure pants that convert to shorts in a snap, transitions are versatile and convenient. The magic of transitions may leave you asking, "Ohmagawd, how'd they DO that?" But it's not magic, it's physics. Transitions are created by coating the surface of the lens with a light-sensitive dye. When molecules inside of the lens are exposed to UV rays, they respond by absorbing some of that light and darkening the lens. UV rays are powerful and can easily move through clouds. This is why you can get sunburned on an overcast day. Transition lenses are also UV sensitive and will slightly activate on cloudy days, resulting in a light tint throughout the lens. But are they twice as good or double the trouble? Let's look at some pros and cons.
Pros
● Convenient. You've got enough to juggle. Whether you're on the beach or behind the desk, transitions adapt to you so there's no need to remember a second pair. Less to carry around means that you're less likely to lose them, making life a little simpler. Now that's handy!

● Economical. Save some dough by buying just one pair of glasses. Indoor and outdoor protection—all in one.

● Protective. Built-in UV filters protect the eye while a darker lens can reduce eye strain.

● Availability. eyebobs offers grey or brown transitions for nearly every lens. Whether you need single vision, progressives, bifocals or thinner lenses, transitions are available.


Cons
● Temperature-sensitive. Transitions will change color fastest in cooler weather. On a scorching hot day the lenses will slow down and transition time may take longer. Rain or shine, transition lenses will never get as dark as a pair of polarized sunglasses.

● Ineffective in cars. As mentioned, transitions are activated by the sun's UV rays. But the windows and windshield of cars are UV protected. Because of this, they will not darken much—if at all—while you're behind the wheel.

● Not instantaneous. Lenses will transition from dark to light anywhere between 2-4 minutes.

● No glare protection. They simply do not reduce glare like polarized lenses. For more in-depth information on this, check out our blog.


Polarized Sunglasses
Polarized lenses are a great choice for anyone who loves to spend time outside. They are designed to reduce glare from water, glass, and snow. How are they made? When light travels, it bounces around and scatters. This scattering allows the eye to perceive shape, motion, and depth—transforming a dull 2-D image into the 3-D world we know and love. But this scattering can cause eye strain when it hits a highly reflective flat surface. Glare can come from many angles, but flat horizontal surfaces like a roadway, snow, metal, or water often cause the most eyestrain. This is because flat surfaces do not scatter light and distribute light. Polarized lenses hold a laminated filter that scatters glare and brings relief to our eyes. Polarized lenses sound like a tool we all need in our toolbox. But like any other lens, they have their pros and cons.
Pros
● No lag or waiting for lenses to darken as you step outside. Unlike transition lenses, polarized lenses are always the same color—sunrise-to-sunset.

● Protection. Polarization blocks harmful sun rays AND helps to avoid glare, reflection, and eyestrain.

● Brown polarized lenses increase contrast and depth. High-contrast means they are ideal for fishermen who can easily spot and track 'the big one' under the surface.

● Grey polarized lenses allow for true perception of colors. They are perfect for variable weather and offer general, all-purpose use for outdoor activities.



Polarized lenses sound like the cat's meow. But before you jump in, let's take a look at some disadvantages.
Cons
● Not compatible with LCD screens like cell phones, auto dashboards, clocks, and other instruments. As mentioned—polarized lenses reduce the amount of light entering the eye. This can be problematic when using an LCD screen. Depending on the angle, the screen may completely blackout or disappear when wearing polarized sunglasses.

● Polarization can react to windshields, which can create rainbows and patterns. It may sound like fun—but not while you're driving.

● Not for night-driving. Again, polarization blocks light. So, they may not be the best choice for low-light settings such as night driving. Unless you want to relive the eighties magic and "Wear My Sunglasses at Night," you should probably stash the shades after sunset.
Conclusion
When making the decision between transitions or polarized lenses, it is important to remember that one is not better than the other. Both transitions and polarized lenses offer the same UV protection. Polarized lenses reduce glare and increase contrast, while transitions offer an all-in-one solution. The decision comes down to each person's activities and needs. Our eyewear experts are here to help you choose the lenses best for your eyes!