Half The Chance
Color
00 - Matte Black Metal Front with Matte Black Temples
This frame style is currently out of stock.
Please select another option.
If given half the chance to wear a spectacle that helps you be just that, we say, see it through. These half-frame reading glasses are made with lightweight metal, adjustable nose pads, and a stylish simplicity that makes a strong case for wearing reading glasses well before you need them.
Material:

Acetate

Shape:

Half-Rim

Sizes:

Average
Free, 2-Day, U.S. Shipping On Orders $75+. Not instant gratification, but close.

90-Day Returns. A chinchilla can make a baby in 90 days. We figure that's plenty of time for you to decide if you want to keep your glasses.

Items in the Sale Collection are final sale — no returns or exchanges.
Customers Also Love:
Customers Also Love:
Size & Measurement Guide
Measurement Guide
Here are the three standard sizes we offer at eyebobs. You will see there are distinct icons associated with each size. Each size is associated with the width of the frame itself.
N

Narrow

less than 130mm wide

A

Average

131mm to 139mm wide

W

Wide

more than 140mm wide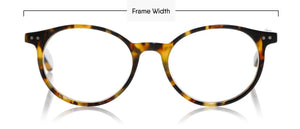 Frame width is the primary way we determine fit. It's the horizontal diameter of the entire frame width.
*Note that you won't find this number on your glasses.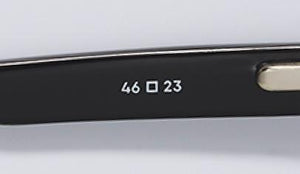 Other Technical measurements
Like most brands of glasses, the measurements of eyebobs glasses can be found on the inside of the temple arm. The first number indicates the lens width (46mm) and the second number is the bridge (23mm). If you already have a pair of glasses you like, you can use those measurements as a reference.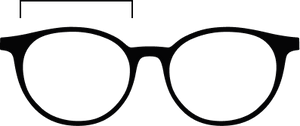 Lens Width
The horizontal diameter of one lens

Lens height
The vertical diameter of one lens

Bridge Width
The width of the bridge section

Temple Length
The length of the entire temple arm, from the front of the frame to the tip
Frame Measurements
Frame width

Lens width

Lens height

Bridge width

Temple length

A

Average

131mm
47mm
25mm
22mm
145mm
A

Average

Frame width

131mm

Lens width

47mm

Lens height

25mm

Bridge width

22mm

Temple length

145mm
Frame Size Scale
A
Extras That Feel Essential:
Extras That Feel Essential:
Our Story.
Drugstores were full of cheap readers and optical retailers carried expensive designer frames, but there were no options in the gulf between. Enter eyebobs.
Our Difference.
We painstakingly select the very best materials, like luxury acetate, comfortable spring hinges, and best-in-class, optical quality lenses.
Our Promise.
We won't take "meh" for an answer. If your life hasn't been changed by one of our frames, our job has yet to be done.